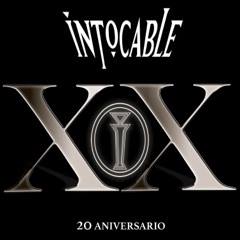 INTOCABLE is one of the most influential groups in the Tejano/Norteño music scene today. Their road to success began twenty years ago in Zapata, Texas, when friends Ricky Muñoz and René Martínez dreamed of bringing their songs to the world as they crafted a unique and extraordinary style of music which expertly fuses Tejano conjunto music, Norteño folk rhythms, pop ballads and rock.
After years of dedication and passion, the dream is an indisputable reality. With #1 hits such as "Robarte un Beso," "Prometí," "Te Amo (Para Siempre)," their latest "Culpable Fui (Culpable Soy)," as well as fan favorites like "Dame Un Besito," "Eres Mi Droga," Enséñame a Olvidarte," "Sueña," "Contra Viento y Marea," "Llueve," "Arrepiéntete," among others, INTOCABLE continues to entertain and delight audiences in both the United States and Mexico. Their songs are heard in radio stations throughout the American Continent and the band has performed live in world-renowned venues such as the Auditorio Nacional in Mexico City with 6 consecutive sold out shows, the Reliant Astrodome Stadium in Houston, with a historic record of over 70,000 people, and the Monterrey Arena in Mexico with more than 3 consecutive sold out shows with thousands of fans singing along and enjoying one of the best shows in the industry. And to top off an already exceptional career, INTOCABLE made history by being the first and so far only act of their genre to sing the halftime show at the Dallas Cowboys vs. Washington Redskins game at the famed AT&T Stadium, home of the Dallas Cowboys.
Today, the group INTOCABLE is the standard bearer of "la música norteña." Its achievements have been recognized with two GRAMMY Awards (in 2005 for their album "Íntimamente (Intimately)" and in 2011 for the album "Clásico (Classic)," seven Latin GRAMMY and multiple nominations, thirteen Premios Lo Nuestro, numerous Latin Billboards and two Billboard Regional Mexican Awards, as well as many other nominations, including one from the American Music Awards. Not only these but in 2010 Billboard Magazine named them "Group of the Decade", and they were honored by Billboard with a Lifetime Achievement Award in 2012.
Always striving towards creating music that is relevant and transcends the boundaries of genre, national borders and even languages, INTOCABLE returned to the studio for their 17th career album. "XX Aniversario" celebrates two decades of an exceptional musical career and brings together all the best of INTOCABLE in a deluxe CD+DVD version, released on January 27, 2015, with the rhythms, the expert arrangements and the excellence and precision of a group of musicians at the top of their art form.
For this new album, "XX Aniversario," INTOCABLE remains working with Universal Music Group in their aim to keep expanding their reach to the Central American and South American markets, since Universal has the distribution infrastructure required for this goal. In this album, INTOCABLE presents a track listing that speaks on its own, with hits from the band such as "Nos Faltó Hablar," a rock infused jewel written by Ikerlan, and "Culpable Fui (Culpable Soy)," a power ballad reminiscent of 1980s rock power ballads, that was written by the famous Mexican singer-songwriter, Reyli Barba and Gustavo Cuahutemoc. Also, hit songs such as "Eres Mi Droga," "Amor Maldito" and "Robarte un Beso," among many others, complete this CD+DVD collector's album, "XX Aniversario."
Year after year, INTOCABLE demonstrates their passion for music and their desire to share their creations with a loyal audience that keeps growing with every word and every note.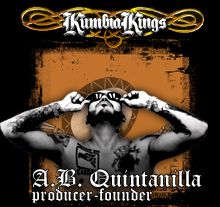 Abraham Quintanilla III remained at the forefront of Latin pop for years on end, primarily as a producer with a long track record, but also as the brother of Selena, as a hit songwriter, and as a polarizing troublemaker. His recording career began alongside that of his iconic sister, with the release of Selena y los Dinos (1984), the first of many albums that he would produce and co-write. As Selena's star rose, so did his. And when her star went dark, following her tragic slaying in 1995, Quintanilla withdrew from the limelight for a while, co-writing occasional songs for Selena followers like Thalía and Olga Tañón. In 1999, he returned to the big time with A.B. Quintanilla y los Kumbia Kings, a bilingual hitmaking collective that fused traditional Mexican music (cumbia, above all) with urban American styles (hip-hop, funk, R&B, reggae), topping it all off with a slick sheen of easily enjoyable pop accessibility. Los Kumbia Kings, always preceded in billing — or, later, "presented" — by Quintanilla, scored too many hits to list, and following their debut album, they began hitting number one with regularity. The group unraveled, however, following the release of their fourth album, 4 (2003), as all the leading members of the group, including frontmen Frankie J and DJ Kane, left bitterly and mounted recording careers of their own. In the media, this bitterness was always coupled with references to "the business" and how they'd learned a lot in Los Kumbia Kings. The subtext, it's safe to deduce, is that the guys weren't getting paid their fair share by Quintanilla, who had a track record of co-writing songs that may have not been his to begin with — and so it has been argued to no clear resolve. In any event, penny-pincher or not, Quintanilla proved himself to be a savvy producer and co-writer, as no matter whom he worked with, he scored hits. For instance, Los Kumbia Kings remained successful even after their mass regrouping, and following another intra-group feud over money, Quintanilla enjoyed instant success with a new group of his, the Kumbia All Starz.
Share and Enjoy